A Club for the Industry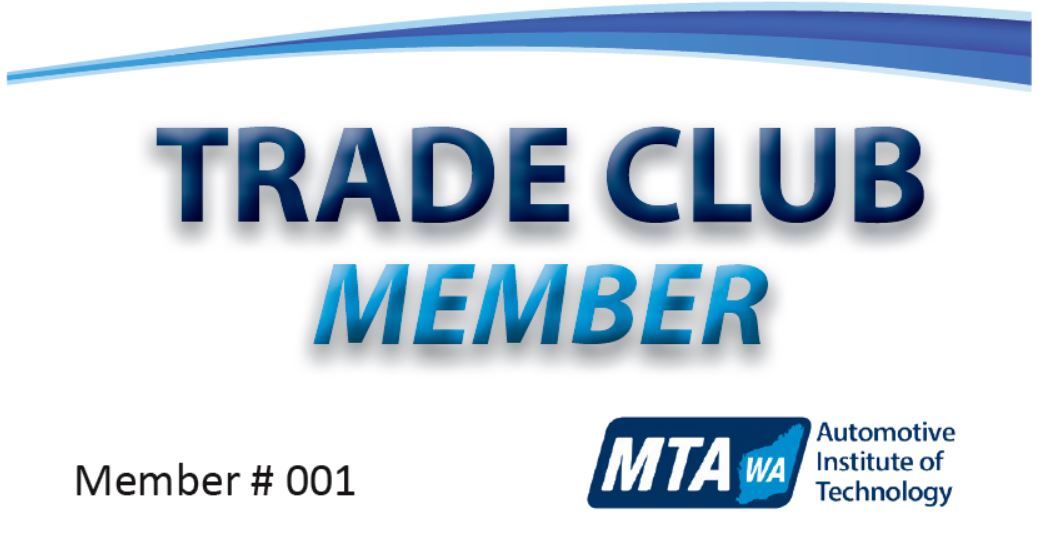 The MTA WA Trade Club was designed to provide you with ongoing benefits and support, so that you can remain at the forefront of your field. Once activated, your Trade Club Card will provide you with access to exclusive benefits, event access, training and even support from MTA WA Mentor Trainers!


Trade Club Benefits
Discounts & Offers (more coming soon!)
We have partnered with RAC WA to provide you with a Free2Go Membership (ages 17-21). This allows eligible applicants to get free Roadside Assistance, plus other RAC Member Benefits. (Apply here)
You'll also get exclusive discounts on SP Tools, with packages hand selected for automotive trades. Check the catalogue here, note the product details and email us for YOUR EXCLUSIVE PRICING. You won't believe the discounts that you receive.
Officeworks - Coming Early March 2019 - BIG Discounts and FREE Delivery on orders, subject to T&C's.
More discounts coming soon, check back here or keep an eye on your email inbox!
Ongoing Specialised Training
Just because you've finished your training doesn't mean that we don't want to help you continue to learn! The MTA WA provides training and learning sessions for Trade Club members that will allow you to gain valuable technical skills at discounted rates. These include Air-conditioning courses*, BOSCH Technology* courses and Parts/Accessory Fitting courses* with more to come.


Mentoring with MTA WA Specialist Trainers (For MTA WA Graduates)
Are you wanting to move to "the next level" of your career, or just have an automotive related question? You can get email and phone (where available) support from an MTA WA Trainer. You'll never be alone in the work force, as we can provide the help and support that you need. To access this service, email [email protected] and quote your Trade Club Member Number.

Exclusively Tailored Trade Club Events
Tailored networking
events
and workshops with a specific focus on automotive sectors and the latest industry knowledge.
Automotive Employment Hub
Our website new incorporates employment services for our members! This includes access to industry specific job postings via the MTA platform, for both businesses looking to hire, and those looking for employment across the full spectrum of automotive careers. Members are able to post job advertisements or apply for current available positions through the MTA Employers and Job Seekers page. We're here to help our recent graduates kick start their careers with ease.
Click here to see current job postings.

More benefits are on their way! Stay tuned.

*Sales Alumni*
More information coming soon!