Whether you are looking for a Pre-Apprenticeship, an Apprenticeship, Training  or Employment we cover it all!

The Automotive Institute of Technology's Group Training Organisation actively sources, employs and organises apprenticeships and the training involved in trades such as light and heavy vehicle technicians (mechanics), panel beaters, spray painters, vehicle body builders, heavy duty plant mechanics, auto electricians and outdoor power & equipment.

Applying for an Apprenticeship is easy with the following process (click image to enlarge):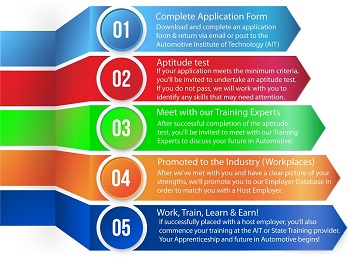 To read more about Apprenticeship Services, click here.